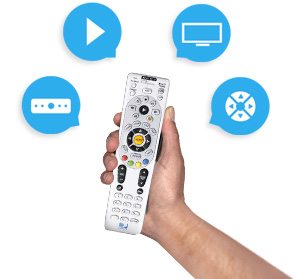 It's all in your hands.
DIRECTV remotes make it easy to get to the entertainment you want in a jiff. With their ergonomic design and intuitive buttons, there's nothing to stand in the way of your TV enjoyment.
Genie® Remote
With the revolutionary Genie® Remote, it's now easier than ever to find
what you want to watch and control your entertainment.
New sleek and ergonomic design,
almost 20% smaller than our standard Universal Remote
Fewer buttons and streamlined layout.
Now you'll know what every button does!
Faster response time than our standard Universal Remote,
so your receiver reacts instantly to every button-press.
Uses both infrared (IR) and radio frequency (RF) technology.
Genie Remote is compatible with all DIRECTV receivers and
DIRECTV Ready TVs in IR mode—requires pointing at the equipment.It's also compatible with Genie® (model HR44 or above),
Genie® Lite (model H44 or above), Genie® Mini (model C41 or above),
4K Genie® Mini (model C61K or above), and Wireless Genie® Mini
(model C41W or above) in RF mode—no need to point.
Genie Remote
Only $15

Universal Remote
Choose from two models: Standard Universal Remote and Universal RF
Remote. Both are infrared-capable—just point at the receiver to operate.
The RF model also uses radio frequency, so you don't even have to point it
to control your system. 1
Control up to 4 components, including your
DIRECTV receiver, TV, DVD player, VCR.
Memory protected so you can replace batteries
without re-programming

Universal Remote
Only $15
Universal RF Remote
Only $25


Cool things you can do with your remote.
Always know the score
When you're watching a game, press
the RED button on your Universal remote to get live scores of the other games in action.
Build your own guide
Customize your DIRECTV On-Screen
Guide to show only those channels
you're subscribed to.
Get a high-speed look
If you have a DVR, skip ahead in
30-second intervals on programming
you've recorded.
View the one-line
channel guide
Press the BLUE button on your universal remote to bring up the one-line channel guide. It won't get in the way of the picture.
View all recent searches
Find recently performed searches with
just a few clicks of your remote. It's as
easy as 1-2-3.
Find your shows with Smart Search
You can search by title, person, channel
or keyword — all just by pressing the
appropriate letters on your remote.